Before moving out to Long Island, I lived in Manhattan. Grew up in Manhattan. I'm a rare breed… a true Manhattan girl. And although my roots are in Chelsea, a more artistic and laid back area of the city, I was all uptown when it came to my hair. I went to Frederic Fekkai. No he isn't just a man with stellar hair product. He is actually a man who does the most amazing color and cuts… EVER. It was ridiculously expensive. I admit that but I loved it and I refused to give it up.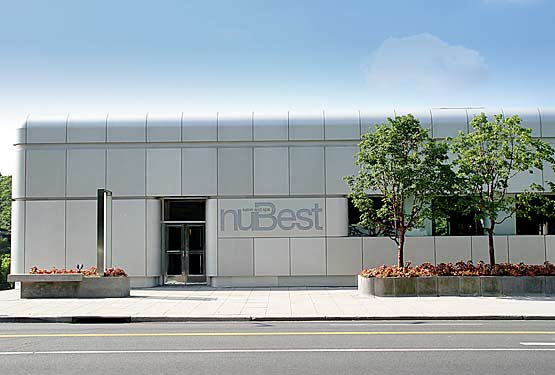 When I moved to Long Island, you would think my biggest dilemma would be a new place, new people, new friends. NO. Mine was where do I get my color done. I chose the only Salon I knew of in Long Island that also did editorial (magazine) work. nuBest & Co. And well, the rest is history. nuBest has treated me with incredible respect and the front desk actually knows me now. I love my colorist, Tara, with a passion because she is honest with me. She'll tell me no way if I'm going too light or too dark, and I respect that. I love my stylist, Pasqua, because she listens, keeps my hair ultra long how I like it and her blow outs are just insane. I feel like a supermodel walking out of there (a retired overweight one).
nuBest is an experience. There's valet parking, a cafe and a full day spa all on the premises. It is a busy place, particularly on Friday & Saturday but the incredible front desk people keep everyone moving to where they need to be. I have had nothing but amazing experiences there. I've always been asked about my hair, even prior to nuBest and I have worked at and patronized the best salon's in NYC. From Warren-Tricomi to Licari to Fekkai and I have to tell you nuBest's staff is the NICEST of any I've ever stepped inside of. It's NOT a neighborhood, small salon. It's a big, 40-year old business that has a healthy stream of clients coming in and out of it's doors. And it works efficiently as such.
I went in this weekend after not seeing Tara (colorist) for 3 months. I desperately needed an overhaul and she expertly touched up my highlights and made my rooted drab hair look perfectly sunkissed. I love that woman with a passion! She makes sure my highlights are superfine which makes the grow out easier.
Pasqua is really amazing to me. I've always been a difficult haircut client. I LOVE color. And for the most part have tried them all before settling on my golden (ish) color. But cutting… I've never had short hair. The shortest I've ever gone is shoulder length. I don't want to go short. I like my length and I fiercely protect it. Pasqua is patient and helped me get to my LONGEST (it's waist length now, yay!!!) hair ever in my life. We had babies around the same time 4 years ago too so it's always nice to catch up with her on that level.
If you're interested: here's the finished product (with NO makeup on! gah!)
And for more information on nuBest check out their site.